Viennacontemporary provides an opportunity for collectors such as Amir Shariat to invite international colleagues. Most are positively surprised by Vienna.
09.23.2015 | 18:23 | by Teresa Schaur-Wuensch (Die Presse)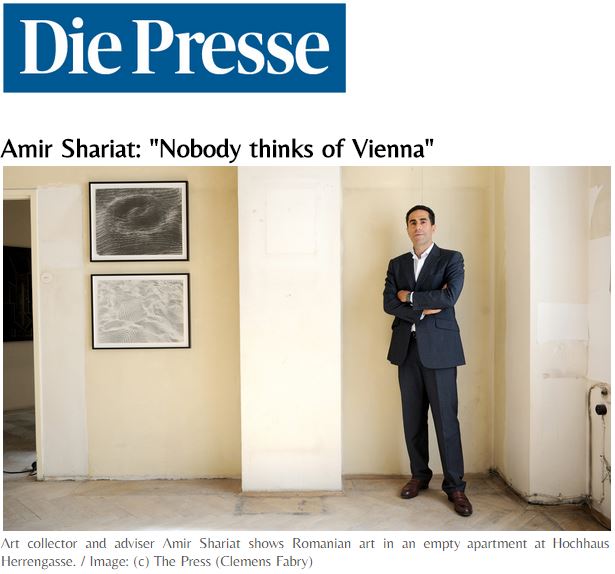 Even art collectors are only human. And they like it when it's warm and the sun shines. The weather was incredible, Amir Shariat quoted one of his international visitors, and Vienna is much less cold than I thought.
The sun falls this morning on the bleached parquet floor of a vacant apartment at Hochhaus Herrengasse. Gray shaded geometrical works are hanging above the outlines of pictures long removed from the yellowed walls: an exhibition of Romanian art from the sixties and seventies, which he organised on the occasion of Viennacontemporary with Katarzyna Uszynska of "Neuer Kunstverein Wien" – and to which he has invited guests from afar.
Amir Shariat is a bustling figure in the international art world. He is a private collector, but also "dealer and adviser", and increasingly a curator. And this is probably what Christina Steinbrecher-Pfandt has in mind when she speaks of their desire to link up foreign and local collectors. "Internationally it is very important to be invited by local collectors," says the artistic director of the art fair Viennacontemporary which was previously trading under the name of Viennafair: "That makes the place much more appealing."
Shariat, born in Iran, grew up in Vienna, the son of a publisher who was later an art dealer, and after 20 years in London is himself "excited" about again being in the country only since January last year. The problem, he says, "is that in international terms the major art markets are New York and London, Berlin and Paris. No one thinks of Vienna."
He himself had invited six or seven collector couples from London, New York, San Francisco and Venice last year, and this year followed by others from England, Spain, France and Italy. Once the people are here, they were hooked. "Only yesterday evening a friend from London told me she wants to move to Vienna. She's only been here a few days". Again and again, he says, he brings major international gallerists for a day around the city. "I show them the most important exhibitions, a few galleries, a studio." A lunch at the Naschmarkt is part of the tour – "that's worth gold." And perhaps the short distances make it possible and much easier than anywhere else. Given the "explosion of art fairs" Vienna has carved out a great niche by showing art from Austria and Eastern Europe. "This is art you do not to see otherwise. And Vienna has a connection to these countries, it has the credibility."
Official Hangout at Karlsplatz
Shariat bought his first painting when he was 14. It was a Waldmüller, that he sold when he was 18 to fund his studies – "a mistake, I could not buy it back now." After graduating from the WU he worked as a private equity banker in London. The transition from finance to art was flawless (and apparently not always clearly separated: he recently settled out of court with previous friends who are a prominent collector couple).
Heuer at Karlsplatz acts as the official hangout place for art collectors. Collectors spin records for other collectors there. Shariat is also active there. After all, he recalls, he was once appearing as a rapper under the stage name Sheikh Amir Khan in the nineties in Vienna.
AT A GLANCE
Viennacontemporary. New name, new location: following disagreements regarding dates with the trade fair organizer Reed, the former Viennafair (at Messe Wien) is back with the same team as Viennacontemporary (in Marx Halle). (Viennafair has a new organiser and will run from 8-11 October). Viennacontemporary opened yesterday evening; 99 galleries from 25 countries will show contemporary art until Sunday. This year's focus is Bulgaria, and there is a new addition entitled "Cinema". The organisers expect around 25,000 visitors and, courtesy of the VIP programme, 20 per cent more foreign visitors.