07.10.16 | by Eva Brunnsteiner (Parnass Kunstmagazin)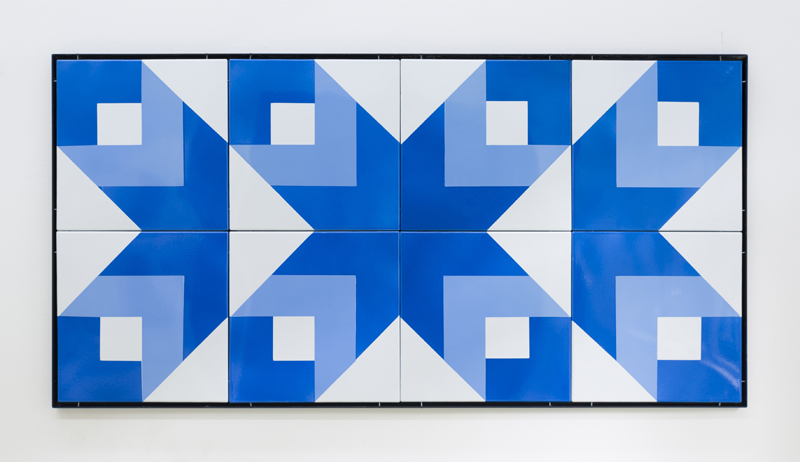 Amir Shariat shows Hungarian 1960/70s enamel art from Pécs in conjunction with "Neue Kunstverein Wien", until 15th October. The exhibition includes works by Ferenc Ficzek, who died in 1987 and was shown simultaneously in a highly-regarded solo exhibition by acb Galéria from Budapest at viennacontemporary. Eva Brunnsteiner met him for the interview.
He starts the interview by asking "Why is Hungarian art so underrated?". "This has two reasons," Shariat continued: "During communism, the artists could only travel abroad for 30 days. Only a 30-day visa was possible, and only one partner could leave because the Hungarian government knew they would never come back as a couple. And there is also the language. Hungarian is an extremely difficult language. You really do not understand a word. Romanian is understandable, it has a Latin origin, but in Hungary nothing is understood at all. I faced the same difficulties when looking for literature concerning the Pecs Workshop. All art books are in Hungarian, some are in both Hungarian and German, but unfortunately only a few."
Amir Shariat is a collector, trader, consultant and curator in one person – a modern cultural manager. He was born in Iran and grew up in Vienna as the son of a publisher and later art dealer. After 20 years in London, he has been living and working in Vienna since 2014.
The afternoon sun falls through large windows of the factory building, which was erected by architect and city builder Alfred Bayer 1910-1911. The architecture center of Vienna mentions in its archive that "the first erected court tract is a simple brick building, while the road façade, erected later, was designed as a decorative, reinforced concrete structure with large windows". "The artist group Gelitin /
Gelatin provided the exhibition space," notes Shariat.
On the walls of the bright gallery room are works by the Hungarian artist group PÉCS WORKSHOP. In colorful enamels, an interesting work display presents itself. Up to eight 45 x 45 cm tiles are decoratively hung as a work in the size of 90 x 180 cm and in the middle of the room are colored enamels laid like a flower meadow.
A blue and white work by Sándor Pinczehelyi, Untitled (1970), captivates our attention. All enamels come from the years 1968-1980. The works are strongly influenced by artists such as Victor Vasarely while Károly Halász' work "Pop Art" (1968) has strong leanings towards Andy Warhol's factory. The exhibition of Hungarian art of the 1960/70s highlights geometric forms that have been inspired
by the Bauhaus movement.
"Working with email is very unusual," notes Shariat. While working as a curator showing the Romanian artist group Sigma 1 from Timisoara at Hochhaus Herrengasse, he was approached by the Hungarians and then went to Hungary to see the work on site. And he was instantly enthusiastic, "I have taken a huge liking to their practice. Pécs is famous because Victor Vasarely was born there."
until 15 October 2016
Location: Vienna
Author: Eva Brunnsteiner
Category: Art